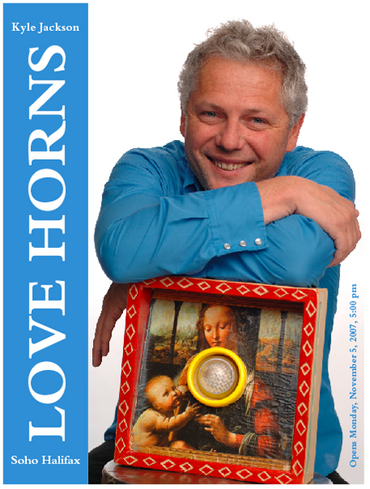 Canadian artist sends love world-wide with Love Horns

Aphrodisiac or Great Bodhisattva artifact? The Love Horn is both simultaneously and is the essential pop culture appliance for the new millennium. No doubt about it, the quintessential question from dinner quests in 2008, is likely to be "Where is your love horn?"

Jackson, owing to wit and wisdom, and the Love Horn phenomena are unstoppable. Invented for the Rocket Science show in 2004, the world's first Love Horns have received ringing endorsements from their owners in clinical trials over the past three years. The consensus? Love Horns work – big time!

Think about it: in the modern household what might be more useful than a vegomatic or giant flat screen TV? There is only one answer, and it cuts straight to the heart of all everyone really wants and all everyone really needs...

Love Horns have arrived just in time: handcrafted personal, household, and corporate totems that exceed all expectations and as totems are want to do, deliver just as promised.